Where Do You Want to Be Braver?
June 17, 2020
B.A. taught us to be courageous. To take risks. To dream BIG.
That's why, at the BA Women's Alliance, we believe bravery is a core tenet of leadership. And, we have news to share about how we are turning this value into action. Building on our Dare to Lead™ session from our Breaking Barriers event last November, our EmpowHER summer program is centered on courage-building.
We thought courage building was important six months ago… it's even more so now.
Because you are a BA Women champion, we want to not only share program updates with you, but also invite you into the important (and always on-going) work of courage-building.
This courage-building work strengthens our Alliance, supports the leadership journeys of our EmpowHER 2020 cohort, and—I truly believe—helps to build the world we all imagine.
The Update:
This summer, with the expertise of Ana Estrada Daniels, Certified Brené Brown Dare to Lead™ Facilitator, the 2020 EmpowHER cohort is diving deep into the four skill sets that comprise courage: Rumbling with vulnerability. Living into your values. BRAVING trust. Learning to rise.
Together, we are learning how courage-building is a skill that can be strengthened. It's one thing to believe in the power of bravery; it's a whole other thing to tone your bravery muscle and to take courageous actions that align with your values.
We Invite You to Take Action:
We hope you'll join us in this courage building journey—for it's far less scary, and way more powerful, with the support of BA folks like you. The first step is "rumbling with vulnerability;" which we've already started with our 2020 cohort by reflecting on each of our own courage. We want to invite you into this work as well by reading this article, and thinking about these questions:
Where do you want to be braver?
What gets in the way of your bravery?
What support do you need to be more courageous?
And, with Juneneeth this Friday, if you're looking for resources to be braver in support of Black Lives, we've got you covered. Check out BA Women Stand Up and Speak Out in Support of Black Lives Matter and Living Our BA Values in Support of Black Lives Matter.
Using the newly featured buttons at the top of this message, we encourage you to share about your courage building with us via social media. In doing so, you're demonstrating your support of the 2020 EmpowHER cohort, taking action to build a braver world for future generations, and starting this essential conversation with those in your online networks.
We'll continue to share the progress of our program, and we'd love to hear from you. After all, YOU are what makes us, US.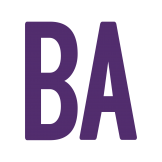 BA Women's Alliance
The BA Women's Alliance is a nonprofit 501(c)3 organization which supports the educational, personal, and professional development of women who seek to make a difference in the world.
more posts by BA Women's Alliance

→
Learn more about how to support BA Women and get involved with the BA Women's Alliance.