EmpowHER Alumnae Spotlight: Ryan Corbett
January 15, 2018
Ryan Corbett was a Graduate Public Service Scholar in the summer of 2016, when she interned at the Caribbean Protection Unit at the U.N. High Commissioner for Refugees.
Where are you from?
Boston, MA
Where did you go to school? What did you study?
I studied philosophy and comparative religions when I was an undergraduate at Dickinson College. I also received a master's degree in conflict resolution at Tel Aviv University and my J.D. at Boston University School of Law.

What was the best part of your internship?
Getting a chance to work on individual refugee applications was amazing, but I also got a chance to do some policy-related work. I worked on Universal Periodic Review submissions, which allowed me to see the impact that policy work can have and whet my appetite for this type of work.
What lessons did you learn that you would like to pass on to future interns?
Most people are more than willing to sit down and chat about career goals with you, and this can be so valuable as you transition from interning to working in the field. I sat down with many people in the UNHCR office, but also sent emails to random people who were in positions I found interesting. The worst that can happen is that person doesn't email you back, and the possible benefit definitely outweighs the possible awkwardness.
What are you doing now?
I'm working at Asylum Access Malaysia thanks to a legal fellowship from my law school and from the American Society of International Law.
What do you hope to be doing in 10 years?
Ideally working in a human rights organization doing both direct legal services and policy advocacy work. I love working one on one with clients, but also hope to transition (at least partly) to policy work to effect large-scale change.
What is your favorite book and what are you reading now?
My favorite book is The Amazing Adventures of Kavalier and Clay by Michael Chabon. Michael Chabon is an amazing writer and the book really has something for everyone! Right now, I'm reading The Hitchhiker's Quartet. It's the first book in a while that's made me laugh out loud while reading it.
Tell us a fun fact!
I really love traveling on my own. There's something about doing exactly what you want when you want to do it and not having to negotiate times and activities with anyone. I recently spent four days in Cambodia biking around ancient temples and trying local cafes and restaurants and loved it (see pictures below)!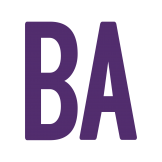 BA Women's Alliance
The BA Women's Alliance is a nonprofit 501(c)3 organization which supports the educational, personal, and professional development of women who seek to make a difference in the world.
more posts by BA Women's Alliance

→
Learn more about how to support BA Women and get involved with the BA Women's Alliance.