The BA Rudolph Foundation Is Now the BA Women's Alliance
July 7, 2019
FOR IMMEDIATE RELEASE
July 8, 2019
Contact: Anna Foster, Communications Coordinator, The BA Women's Alliance
Email: [email protected]
B.A. Rudolph Foundation is Now the BA Women's Alliance
Washington, DC – This past year has been incredible for the B.A. Rudolph Foundation, and we couldn't have made it this far without your support. We are expanding our efforts—and one of the most important steps has been updating our brand to ensure that we not only stayed true to our roots, but also best represented who we have become as an organization. We started earlier this year by launching EmpowHER: A BA Women Initiative, our rebranded summer program (and with it, welcomed our largest summer cohort to date!).
In June, we launched a new name and new brand for the organization: the BA Rudolph Foundation is now the BA Women's Alliance. Through this transformation, our history is the foundation of who we are and our mission to support women, alongside our allies, is at the forefront of it all.
We're the same people with the same mission, focused on what we do best: supporting women who embody B.A.'s fierce dedication to justice and radiate B.A.'s devotion to advancing and empowering women. There are thousands of B.A.s— BA Women— among us. It is our mission to find and champion them.
And, with a new brand comes a new website and logo.

As you can see, our logo and brand have undergone a significant transformation, informed by conversations with our community and a deep dive analysis of who we are— and who we want to become.
Of course, "B.A." is at the heart of it all. The brand intends to communicate that as a community we are (like B.A.) authentic, inclusive, assertive, united... a little sassy. "BA" is used as a graphic in many different ways, with the logo representative of two strong, confident women standing side by side. Our palette is regal, warm, and sophisticated, just like the women we support.
Thank you for being with us on this journey. Because of you, we are an Alliance of strong, confident, equipped women and men, who are changing the world.
We are BA. And we couldn't be more excited about our next steps, together.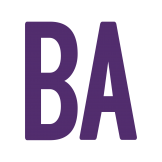 BA Women's Alliance
The BA Women's Alliance is a nonprofit 501(c)3 organization which supports the educational, personal, and professional development of women who seek to make a difference in the world.
more posts by BA Women's Alliance

→
Comment (1)
Learn more about how to support BA Women and get involved with the BA Women's Alliance.